Salam you alls,
Peminat tegar movie The Twillight Saga mesti sedang tunggu cerita The Twillight Saga Breaking Down Part 1 release 24 November ni kan? Ramai yang dah follow cerita ini dari mula lagi. Mesti tak sabar nak tunggu cerita ini release next week.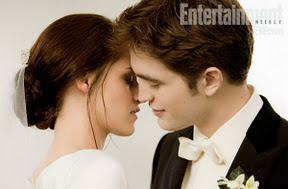 Mesti nak tahu apa akan jadi dengan perkahwinan Edward dan Bella? Betul ke baby mereka akan menjadi ancaman kepada Edward dan Bella? Selamatkah baby mereka dari dibunuh?
Agaknya berapa kutipan cerita ini di Malaysia nanti? Di US, The Twillight Saga Breaking Down Part 1 berjaya kutip USD 72 million pada hari pertama tayangan.
After coming in second all-time for highest midnight ticket sales with $30.25 million, the film went on to score a total of $72 million domestically yesterday, according to The Hollywood Reporter (more concrete numbers will be unveiled on Monday).

This puts Breaking Dawn - Part 1's opening day third on the list of highest opening day figures ever, following Harry Potter And The Deathly Hallows: Part II and The Twilight Saga: New Moon (which BD1 closely follows by a margin of less than one million).



Siapa nak pergi tengok?
- Posted using BlogPress from my iPad